Urasenke Sydney has donated $800 to the Cowra Japanese Garden and Cultural Centre. The Centre supports cultural exchange between the peoples of New South Wales and Japan. The special relationship of Cowra (road distance from Sydney 306km) and Japan dates from August 1944, when 1,104 prisoners of war attempted to escape. It was the largest prison escape of World War II, as well as one of the bloodiest. Due largely to cultural differences, relations between the Japanese prisoners and the guards had been poor. During the escape and ensuing manhunt, 4 Australian soldiers and 231 Japanese soldiers died.  In 1960 the Japanese Government decided to bring all their war dead from around Australia to be re-buried together in one place. In 1962, Japanese Embassy officials, impressed with the attention paid by local Australians to the graves of their war dead, approached the Cowra Council to discuss the possibility of one cemetery for all Japanese who had died on Australian soil during the war years and for that cemetery to be located in Cowra. So, in 1964, a Japanese War Cemetery, designed by Shigeru Yura, was built. High school students maintain the cemetery. This was the beginning of the friendship between Japan and the town of Cowra. For years, Urasenke Sydney has given chado demonstrations at the annual sakura matsuri (cherry blossom festival) in the Japanese garden and donated its proceeds (see photographs below).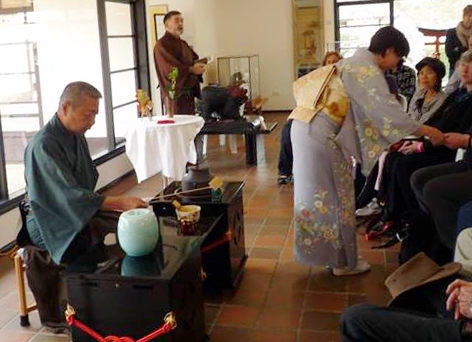 This year, Covid-19 meant that the sakura matsuri festival could not take place, but Urasenke Sydney felt it vital to maintain our support for the Centre. In fact, Japanese chado practitioners visited Cowra as early as 1970, before Urasenke Sydney came into being.
There are Japanese gardens throughout the world, but this one has a history, design, and location that make it a powerful symbol of good will, encouraging reconciliation and peace. The Cowra Japanese Garden covers five hectares. The renowned landscape architect Takeshi "Ken" Nakajima中島健 (1914-2000) created this daikaiyū-skiki-teien, 大回遊式庭, "great strolling-style-garden" to symbolise the Japanese landscape ("Ken" is an alternative pronunciation of 健 to Takeshi). The rocky hillside, manicured hedges, waterfalls, streams and two lakes provide a serene and secure environment for more than 120 species of birds. Plant species include: flowering cherry, cedar, rose, persimmon, downy maple, flowering quince, liquid ambers, golden ash, maples, Chinese tallozvs, silver birch, wattles, jacarandas, magnolias, camellias, lilacs, honeysuckle, rosemary, bamboo, dwarf diosma, crepe myrtle, daffodils, irises, may bushes and jasmine. The huge scale of the garden and of the shakkei, the "borrowed scenery" of the Lachlan valley, 借景, make for a magnificent outcome. According to Nakajima's son Hiro, Cowra is his father's finest work.