KOYO MATSURI- AUTUMN FESTIVAL, IN COWRA JPANESE GARDEN AND CULTURAL CENTRE 4th & 5th May, 2022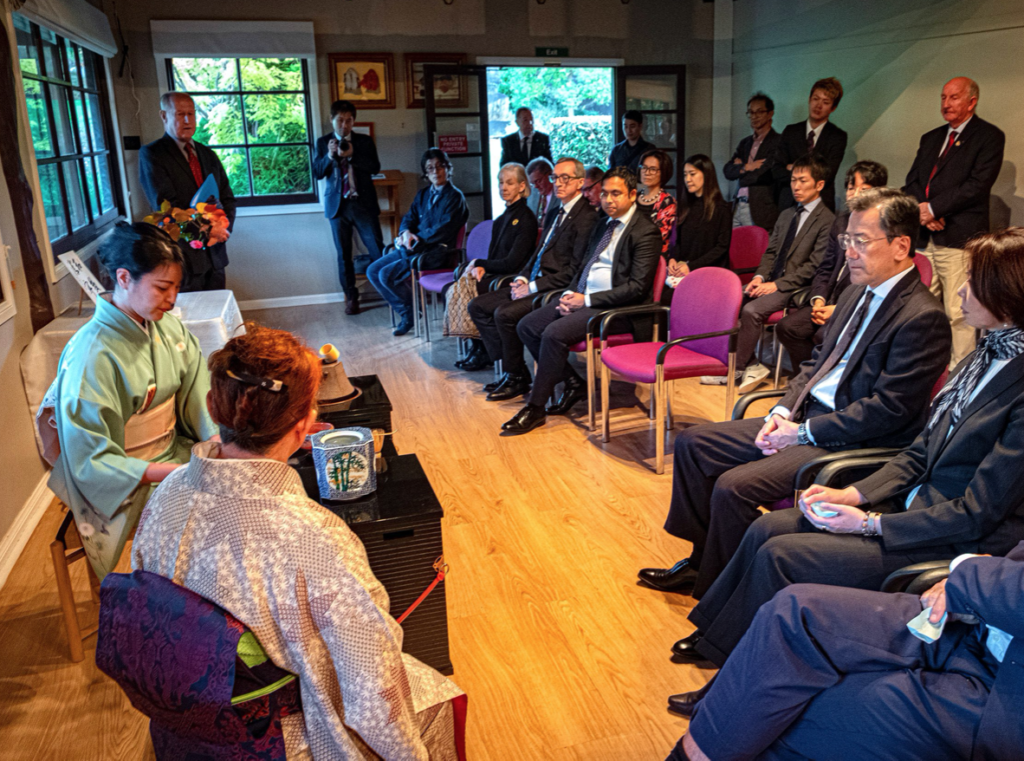 The first Cowra Koyo Matsuri festival was last year. It is mainly for children, because 5 May is Children's Day (子供の日, kodomo no hi) in Japan.
On this day, families flykoinobori, carp-shaped windsocks (carp because of the Chinese legend that a carp that swims upstream becomes a dragon and flies to Heaven, and the resem blance of the waving windsock to swimming fish): a black carp for the father, a red or pink one for the mother, and a blue one (or perhaps green and orange) for each child.
Cowra Japanese Gardens had several events for this festival. First, they had a Service of Respect for those who died in the Break Out from the Cowra Prisoner-of-war camp. Next, Dr. Geoff Gallop AC, former Premier of Western Australia, gave an oration about "Japanese gardens as a site for business and diplomacy in Australia-Japan relations". His oratorical skills were impressive.
After then guests moved to our setting chashitsu in the Education Centre for a tea ceremony. Robert Davies gave the explanation while Tomomi Nakaya performed. Ryoko Freeman served the VIPs. Yen-Yu Lin, Irina Subkhanberdina and Takeshi Shibata served other guests from the mizuya (kitchen). We served over thirty guests. The first day concluded with the Mayor's reception.
The next day, 5th May, Cowra Japanese Garden invited 500 students from the region. We performed chado four times in the morning to 147 students and teachers. Mr Matsunaga kindly donated kompeito. Mrs. Matsunga made small cookies and sweet boxes by origami. Children received Japanese sweets in a pretty box. They were delighted with the presents. Five helpers and Peter Armstrong, Kyoko Mckay from Canberra joined for serving tea. Members took turns in the three roles, temae, explanation, and mizuya.
In the afternoon, we conducted workshops for tw o groups of St. Raphael's Catholic School Cowra. The Japan Foundation gave us a grant for this workshop. This is a first time to receive a grant and we appreciated the Japan Foundation's generosity. We introduced Mr. Keiji Shono, Director of the Japan Foundation, to the children.
We showed chado demonstration first and after then students tried whisking matcha. We divided the students into two groups, whisking groups and having matcha groups and then swap. After explanation, students tried to whisk. They struggled. Members advised how to whisk properly. Soon, some students got the trick and were whisking nicely. Thirty-nine students and two teachers attended.
Cowra Japanese Garden's Chairman, Mr. Bob Griffiths and Manager Shane Budge, Board member Dr. Darel Mitchell were very pleased with our performances. Thay will make a bigger event next year and invited us again.