Now, 7 November 2014, we have FB-page – Urasenke Sydney
On Sunday, October 12, we had our Spring Annual Chakai at The Maiden Theatre in The Sydney Royal Botanic Gardens.
The Honseki was set in The Moore Room adjacent to The Maiden Theatre. Four and a half Tatami mats were laid and Toko-no-ma was created with Shoji screens and a Australian natural timber board. Shin-Daisu was chosen for this years Honseki setting.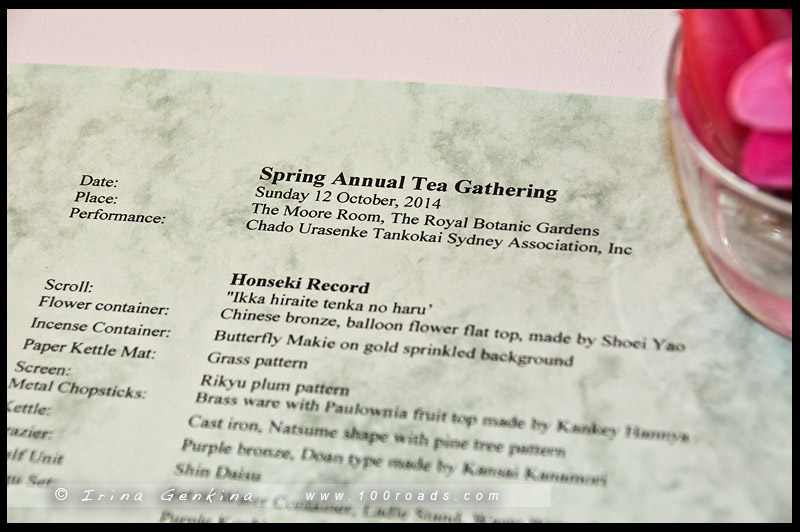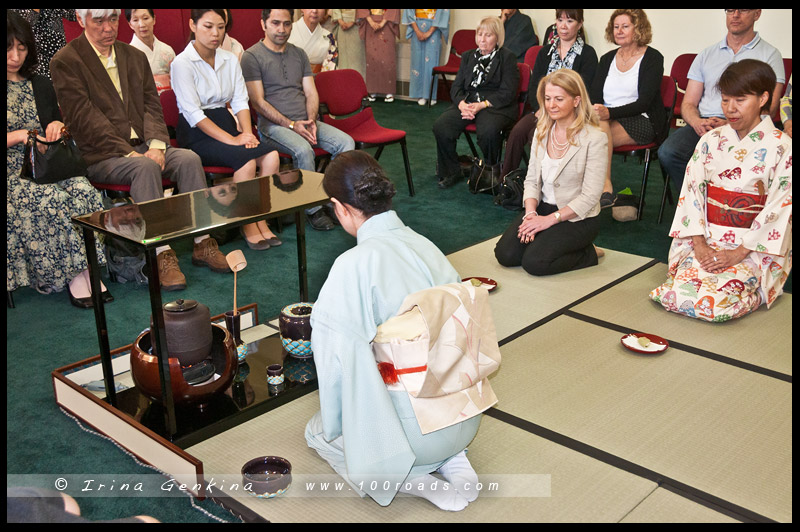 More photos you can see in Gallery – Spring Annual Chakai 2014
In the Toko-no-ma, the scroll' Ikka hiraite tenka no haru.- A flower opens and spring is everywhere.' by Rev. Daichi Yamaguchi and the incense container, butterfly Makie on gold sprinkled background gave a clear statement of spring and one flower of Tibouchina in the Flower vase, bronze ware with balloon flower flat top enhanced the formality of Shin-Daisu.
The Kaigu set, purple Kochi ware with blue sea wave pattern by Suiran Nakamura, the bronze Doan brazier by Kansai Kanamori , Natsume shape kettle by Seihoh, brass chopsticks with paulownia fruit tops by Kankei Hannya and the large Natsume with pine tree Makie by Icchoh Ichigo looked very atructive on the shiny black lacquer finish of Shin-Daisu.
The red colour of the main tea bowl, red Raku ware, a replica of Sohnyu ( Raku V )'s 'Hanaikada- flower raft' by Shohraku Sasaki , white, gold and ivory colours of the second tea bowl, Kyoyaki ware with cherry blossom pattern by Shohhei Sugita and a dark colour of Chashaku with pine needle Makie by Rev. Kankei Moriyama made a good contrast in front of Shin-Daisu.
The sweet was elaborate hand made Nerikiri, named ' The last petal of cherry blossom', one small petal on the cherry leaf gently folded. It was very popular among the guests.
Even most of our regular guests had never seen Shin-Daisu setting before and they found it very impressive, taking many photos of it. The narration was very informative, telling the historical significance of Daisu to the guests as well as usual explanation of Urasenke Chado.
Although the tea making procedure was a little more complex than usual because of the setting, our hosts performed efficiently and all six sessions went very smoothly.
Overall the cooperation and team efforts of the hosts, the assistants, kitchen people and narrators made this Chakai very successful and all the guests and members could enjoy the last glitter of spring of this year.
Misono-dana seki –
Card: "Seifu" Refreshing breeze, written by Naofumi Taniuchi
Flower container: Hanging vases
Misono-dana: Black lacquer ware
Kettle: Axel shape, made by Seikoh
Water pitcher: Wooden bucket with willow pattern makie, made by Gahoh
Tea container: "Kinrinji" with spring grasses and butterfly makie
Tea scoop: Bamboo, names "Hanaikada" Flower raft
Main tea bowl: Ninsei, Gold powder glaze and flower pattern, made by Zenpoh
Second tea bowl: "Kinrfande" Green celadon with young pine leaves pattern
Lid rest: Hirado white celadon, Six bottle gourds shape
Waste water container: Brass
Sweets: "Gyuhi", Japanese rice cake and "Kingyoku", Japanese dry sweets
Sweet container: Banboo tray "Raitai"