Date: Sunday 3 July 2016, from 11:00am to 15:30pm
Venue: Maiden Theatre & Moore Room, Royal Botanic Gardens, City
Winter Tea Gathering is Annual Chakai at The Maiden Theatre in The Sydney Royal Botanic Gardens. Guests can enjoyed traditional Japanese Sweets and tea while learning about the history of the tea ceremony. There will be two styles of demonstrations available, tatami mat style and table and chair style, giving you the chance to be immersed in the Japanese culture and eat some yummy treats at the same time.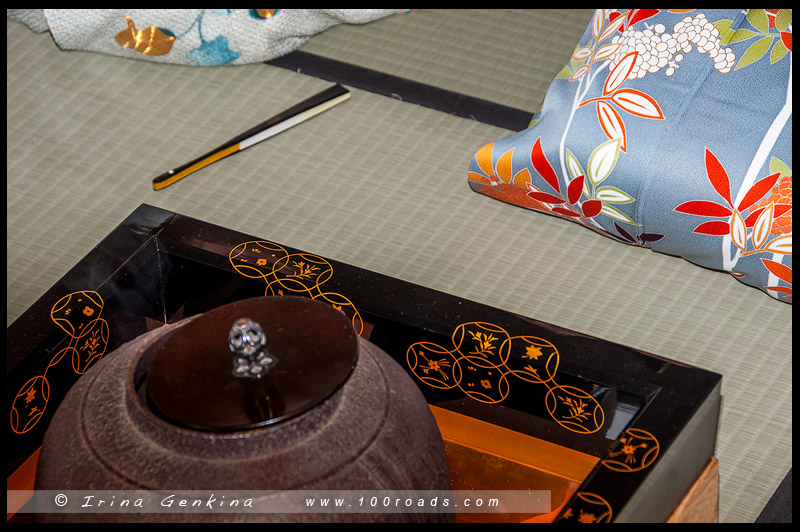 More photos you can see in Gallery – Winter Tea Gathering 2016
HONSEKI
Scroll: "Tsuru wa tofu senjaku no yuki" (The crane flies over the snow of one thousand feet), Written by Rev. Bokudo.
Incense container: Kyoyaki ware, Mandarin duck by Jogaku
Kettle mat: White crepe paper
Kettle: Round shape with bamboo pattern by Seiko
Stand: Tagasode-tana (kimono sleeve shape) by Seiko
Water container: Yellow kochi ware with interlocking circles and flowers by Seiko
Tea container: Large flat natsume with spool makie by Shokan
Tea scoop: "Buji-Peace" made and named by Rev. Keido, Daitokuji 509th
Main tea bowl: Floral Mishima cylindrical bowl by Kiraku
Second tea bowl: Kyoyaki kiln, with sacred bamboo and snow pattern by Kansai
Lid rest: Kyoyaki ware, three dolls by shuho
Waste water container: Bronze with lines by Shoketsu
Water pitcher: Kyoyaki ware with algae and water stream pattern by Hosen
Sweets: "Kobai – red plum blossom", Japanese moist cake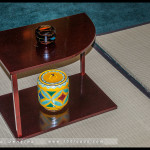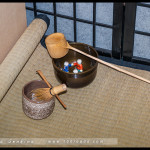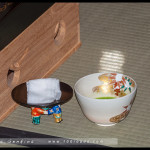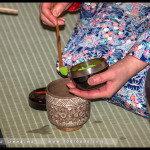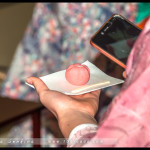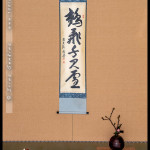 MISONO-DANA SEKI
Card: "Nichi-nichi kore kojitsu, written by Sogen.
Flower container: Varios vases
Misono-dana: Black lacquer ware
Kettle: Axel shape, made by Seikoh
Water pitcher: Shonzui, made by Shuho
Tea container: Black lacquer ware, Fubuki shape with Kobe ume makie, by Yosai
Tea scoop: "Hotsui (treasure hammer)", made by Gido
Main tea bowl: Hagi kiln
Second tea bowl: Kyoyaki kiln, "Korinbai (Ume plum blossom, Korin pattern)", made by Seiko Miyachi
Lid rest: Hirado kiln, white porcelain with six gourds shape
Waste water container: Brass
Sweets: "Yukiwa" and "Kangohri", Japanese dry sweets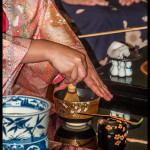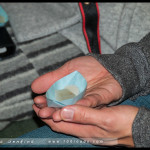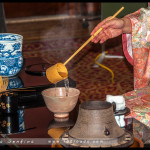 It was quite challenge to have chakai in Winter. But the weather was very kind and we had a great day. We had 8 VIP guests and 156 paid guests.
We had a great time with our guests and members on the Winter Tea Gathering Day.