Date: Sunday, 18 October
Venue: Maiden Theatre & Moore Room, Royal Botanic Gardens, City
Spring Annual Chakai at The Maiden Theatre in The Sydney Royal Botanic Gardens.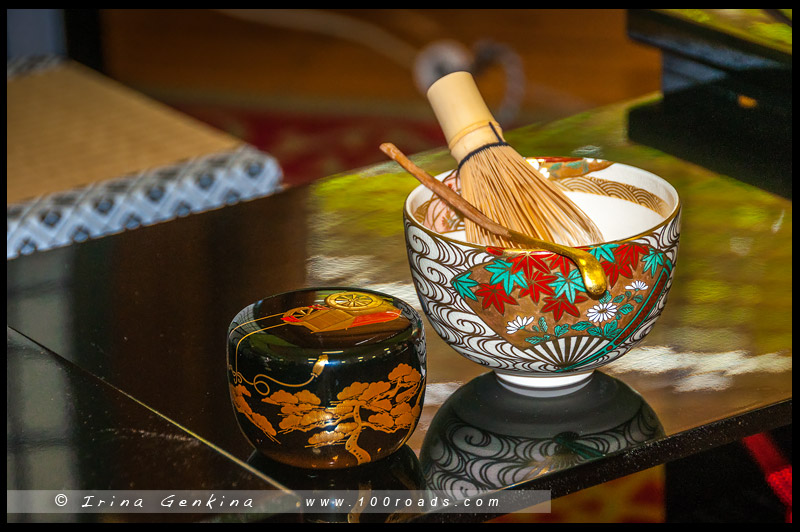 HONSEKI
The theme was 'Shoburo- first furo setting in early summer'. The scroll' Kunpuu minami yori kitaru.', Chkuju-tana, hydrangea natsume, 'Matsukaze' chashaku, tsuyukusa flower from Leura and our hand made sweet 'Aokaede' represented the theme very well.
All six sessions were well attended and the guests displayed their great interest in our demonstrations and informative commentaries. We've heard a lot of positive feedbacks from the guests.
Although we were slightly under staffed this year, we could manage to run the event very smoothly with our wonderful team effort. This success owed all the members who worked very hard selflessly to complete their own tasks.
Itoko Inoue
MISONO-DANA SEKI
Card: "Seifu (clean wind)", written by Sotan Naya.
Flower container: Hanging vases
Misono-dana: Black lacquer ware
Kettle: Axel shape, made by Seikoh
Water pitcher: Ninsei, gold dust bag shape with treasure pattern, bag shape, made by Eihoh
Tea container: Large flat date's shape, Genji palace carriage pattern, made by Ryu Koho
Tea scoop: Cherry blossom with gold, made by Hakuichi
Main tea bowl: Kyoyaki kiln, with golden clouds and fans pattern, made by Shohei
Second tea bowl: Kyoyaki kiln, with hydrangea pattern, made by Eiko Miyachi
Lid rest: Hirado white celadon, with shippoh design
Waste water container: Brass
Sweets: "Kingyoku" and "Iris", Japanese dry sweets
Sweet container: Bamboo tray "Rantai"
After the overnight rain, fresh spring breeze brought our 182 guests to Royal Botanic Garden and we had very successful our annual tea gathering in very nice weather.
In MISONO-DANA SEKI, we had many spring flowers in several vases on the wall to welcome our guests to the spring tea gathering. Those flowers caught our guest's eyes as soon as they arrived at the room.
Every session went very smoothly and many of our guests stayed the venue after the session to take photos, to have a look at Misono-dana settings or to ask a lot of questions about utensils, flowers, kimono, sweets, etc. Sometimes we had to ask them to leave the venue to start next session.
Mr. Takaoka, consul general of Japan was impressed with the way of Japanese tea and atmosphere. He enjoyed taste of tea and home made sweets.
All members worked hard and cooperated as a team to make this event successful.
We had a great time with our guests and members on the Spring Tea Gathering Day.
Emiko Shirato
Mikako De Caires