Venue: The Japanese Embassy in Canberra
Date: 14 September, 2015 (Monday)
In the best ohanami weather we had kan-oh chakai at the Japanese Embassy in Canberra. Mr. Kusaka, the Ambassador invited many foreign groups and house members.
The weather was the best hanami-biyori: a temperature of 20 degrees, no wind, sunny. Cherry blossoms welcomed to the guests in front of the garden. We set up Misono-dana on a red carpeted stage. The big red umbrella with tanzaku, "Nichi nichi kore kojitsu, every day is a good day" and with cherry blossom flowers was beside the stage.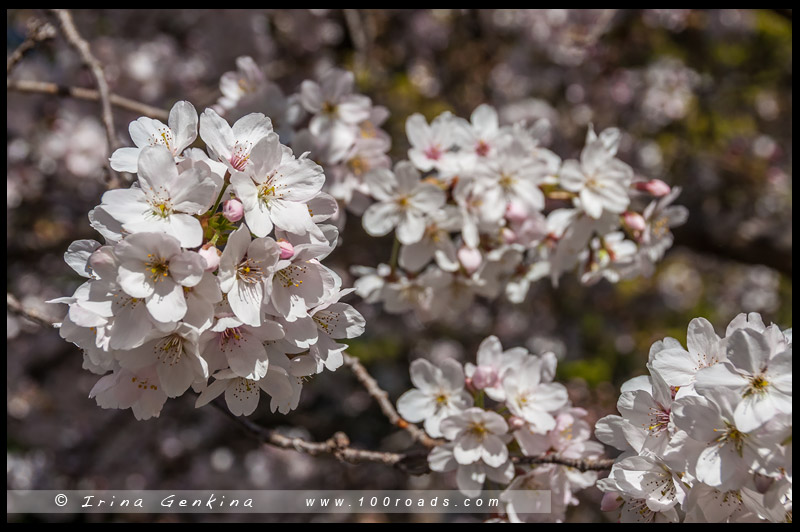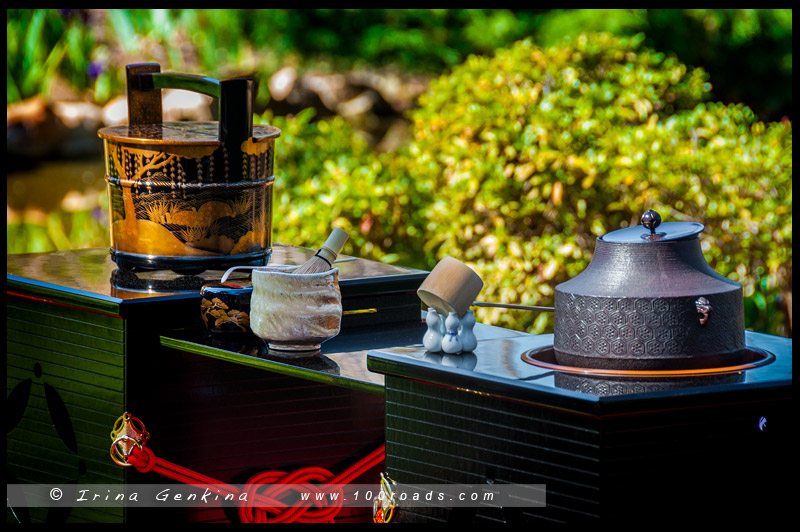 More photos you can see in Gallery – Hanami at Canberra
Mrs. Kusaka, the Ambassador's wife, invited foreign Ambassador's wives and Kabuki group from ANU. Before chado demonstration, Mr. Kusaka gave a welcome speech. Mr. Matsunaga, president of the Association, introduced Urasenke tea school. Anthony explained the history of chado and began the chado demonstration. The hanto, Itoko served sweets; funoyaki and seitai were kindly sent from Urasenke Kyoto. They are always popular among both Japanese and foreigners. The teishu, Emiko made four cups of tea for the main guests, among them Mr. and Mrs. Kusaka. Anthony explained the history of chado as well as the utensils. This year the Ambassador asked to use the Australian potter's one. We used unusual shape charactered chawan with gold painted inside, as a main tea bowl, made by Ian Jones. This is matching to our gorgeous teoke mizusashi, donated by Daisosho.
In the afternoon, the invitees were from members of the senate and the house of representatives, their staff and cultural people. The potter, Paul Davies and Ian Jones were among them. There were a few absentees because of the Malcom Turnbull's challenge for the leadership of the Liberal Party, which unknown to us was to take place that very afternoon. This time we used Paul Davies hagi chawan as a main tea bowl. The matcha were donated by Ito-en. They are very popular with the foreigners. The Ito-en's staffs are invited too. The teishu, Sachiko made several cups of tea to the main guests. Ryoko served to the house members and Mr. and Mrs. Kusaka.
In the back, mizuya people were busy whisking tea and served guests. We served tea with sweets to 100 guests in total. Even we had sixty guests in the afternoon session, the serving went very well because ten Embassy wives helped hakobi.
The guests enjoyed the beautiful atmosphere and were very interested in chado. Mr. and Mrs. Kusaka were very pleased with our performance. The chief secretary of the Embassy asked us to perform again next year.
Ryoko Freeman